Get damn good coffee delivered right to your door. Below you'll see our unique coffees for you to choose between. All roasted to fit however you brew your cup of coffee. Filter, Espresso or French-press. We deliver in 1 kilo bags, that is 100% biodegradable.. All coffees are directly traded with our partners in Mexico, Nicaragua and Ethiopia. Here you can also buy some of the best brew-at-home-gear.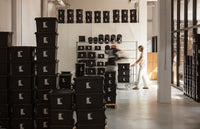 ABOUT DAMN GOOD COFFEE COMPANY
At Damn Good Coffee Company, we are on a mission to turn the coffee industry sustainable and circular. Transforming one of the world's most traded commodities.
The CIRCULAR COFFEE WAY™  is all about innovating around circular and sustainable practise from farm to cup, to upcycling coffee waste into new products.
damngoodcoffeecompany.com